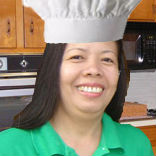 --
Remember Wendy's incredible salad bar? Wendy's pioneered the quick service salad bar with the widest and freshest ingredients. We were one of their regular customers who were greatly affected by its lost. Imagine an eat all you can salad at a very affordable price. That was a great way of getting full without worrying about the calories.

Now here is the good news, according to the latest interview at Ken Calwell, chief marketing officer for Wendy's USA, they are raising the bar on salads again. Yes, Wendy's is reinventing quick service salads once again. The new fresh and flavorful line-up; Apple Pecan Chicken, BLT Cobb, Spicy Chicken Caesar and Baja, is now available in US restaurants nationwide. Hope it will be available soon here in the Philippines soon.

As of now, whenever hubby and I are craving for salad, we are just making our own version at home.
Ingredients:
250gms. salad macaroni (cooked as per package instructions)
1 cup mayonnaise
1/2tsp. ground black pepper
1tsp. sugar
a dash of salt
strawberry flavored gelatin (cooked as per package instructions)
2 big tomatoes (sliced)
1 medium cucumber (sliced thinly)
lettuce (washed and dried)
1 medium carrot (grated)
1 small can pineapple chunks or any fruit of your choice
Procedure: